Fossil fuel corporations are causing the climate change fuelling mega-fires – and they should be footing the bill for the devastation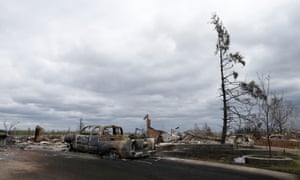 Most of these people had no idea of the disaster that was coming. But there were some who did: the corporate arsonists themselves. As far back as forty-five years ago, certain Canadian oil corporations already knew the lethal climate consequences of their business model. Last month, building on similar revelations about US companies, investigative reporters discovered stunning proof in the archives of a Calgary museum—a clue as good as any about this mega-fire's "point of origin."
An uncovered report produced in 1970 by Imperial Oil, the Canadian branch of ExxonMobil, put it crystal clear: "Since pollution means disaster to the affected species, the only satisfactory course of action is to prevent it." Except the oil company proceeded to spend decades lying about what they knew, and ensured the disaster would be as profound as possible. Little wonder the same company report branded its own actions as "anti-social."
The very picture of anti-social? A fire ripping through a city. The incineration of homes. Irreplaceable possessions and family albums burned to ash. Climate refugees spilling across a province and country, stripped of their livelihoods and uncertain of their future.
David Staples, Edmonton Journal, Postmedia News | May 4, 2016 | Last Updated:May 4 4:35 PM ET
EDMONTON — Alberta's aging forest is putting communities at ever greater risk of wildfires, an expert committee on containing such fires warned the provincial government in 2012.
In 1971, more than half of Alberta's boreal forest was deemed to be young, with about a third classified as immature, five per cent considered mature and a small portion deemed "overmature."
By 2011 however, that had changed to less than 10 per cent young, about a quarter immature, more than 40 per cent mature, and more than 20 per cent overmature.
Tristin Hopper | May 13, 2016 10:53 AM ET
More from Tristin Hopper | @TristinHopper
As 60,000 people emptied a burning city as fast they could, oil sands operations all along the northern end of Highway 63 opened their doors to as many as 25,000 evacuees.
May had told reporters that the devastating destruction caused by the wildfires in Fort McMurray was a sign of worse things to come if the planet doesn't scale back its consumption of fossil fuels.
Prompted by questions from reporters at a separate news conference, May said that scientists cannot link specific events to climate change. But she noted that the disaster was following a pattern.
"The fact that the forest fire season has arrived so early in northern Alberta is very likely a climate event – very likely related to extreme high temperatures and very low humidity, very low precipitation and it is, as we saw in the quote from one of the firefighters – it's a firestorm," she said. "It jumped a highway, it jumped a river. It's a devastating tragedy right now and I think our focus is always on the right now: to think for the firefighters, for first responders, for people who are losing their homes. It's a disaster. But it's a disaster that is very related to the global climate crisis."