Efforts by the former secretary of state to move on from her email controversy hit a major setback as investigation finds disregard for department guidelines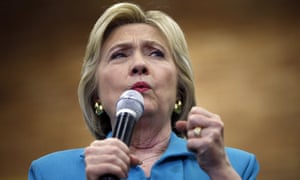 ---
A massive haul of 475 pledged delegates will be up for grabs in California's June 7th election. We hope to win a big majority of those.
Since this is a people-powered campaign, we're asking for your help – in any of the following four ways – to do that!
1. Call some California voters now. We're working to get as many Californians as possible registered to vote for Bernie before the voter registration deadline this Monday. Lots of voters – even those in other parties – are looking for the strongest candidate to beat Trump, and polls consistently show that that's Bernie.
2. Sign up to call California voters later. Since California offers online voter registration, we'll be making calls right up through the deadline Monday evening. And every voter we can register, or re-register as a Democrat (or "no party preference"), is another potential vote for Bernie.
SIGN UP TO MAKE SOME CALLS LATER
3. Share our California voter registration page on Facebook. If you have friends in California, tag them and ask them to spread the word too. Voter registration numbers are already trending up this year in the Golden State, so let's keep that momentum going!
SHARE ON FACEBOOK AND TAG SOME FRIENDS
4. Contribute to support our campaign. We don't take money from super PACs, and have shocked the political establishment by showing that Americans just like you are eager and ready to fund a grassroots campaign that's notbeholden to wealthy donors. Your donation will help keep our political revolution rolling all the way into the Democratic convention in July.
CONTRIBUTE TO SUPPORT OUR CAMPAIGN
We're staying in this fight all the way to the convention, because we know that Bernie is the strongest candidate to beat Trump in the fall. Every state we win and every vote we earn strengthens our hand in delivering that message at the convention in Philadelphia, and signals to the political establishment that we will not accept the status quo of a corrupt political system that holds in place a rigged economy.
In solidarity,
Team Bernie
We need a Congress with members who believe, like Bernie, that we cannot change a corrupt system by taking its money.
So let me introduce you to Tim Canova, a progressive challenger who is running against Rep. Debbie Wasserman Schultz in a Democratic primary in Florida this year.
Tim endorsed Bernie's presidential campaign, and was inspired to run because of Wasserman Schultz' support of the Trans-Pacific Partnership. His campaign is funded like ours, by lots of people giving small amounts of money.
And on issues like taking on Wall Street, making tuition free at public colleges, and reforming our broken campaign finance system, he is someone you can be proud to support. That's why Bernie is endorsing Tim's campaign, and why we're proud to ask:
Splitting a $2.70 contribution between Bernie 2016 and Tim Canova for Congress will help elect progressives up and down the ballot while sending an UNMISTAKABLE message about our political revolution's commitment to electing candidates who share our values.
A few weeks ago, we raised a tremendous amount of money for three progressive candidates for Congress. Your support changed their races overnight. In the days ahead, we're going to add a dozen or more additional candidates to that list.
We're doing this because it is too late for establishment politics and establishment economics. We need real change. We need U.S. Senators, members of Congress and state legislators who have the guts to take on the big money interests whose greed is destroying the American middle class.
Tim Canova is one of those candidates, and I hope you'll join Bernie in support of his campaign:
Split a $2.70 contribution between Bernie 2016 and Tim Canova for Congress today. This is important.
Thank you for powering this political revolution.
All my best,
Jeff Weaver
Campaign Manager
Bernie 2016
Published on May 21, 2016
We don't trust what she says and we don't like what she's done
"The Problem With Hillary, Chez, Is I Don't Vote Republican". Radio show host Russ Belville wrote:
If Donald Trump wins the presidency over Hillary Clinton, it's not the fault of people like me who won't vote for Republicans. It's the fault of the Democratic Party for nominating a Republican.
There's a long list of policies that Belville and others argue keeps Clinton in step with Republicans.
Published on May 4, 2016
A CNN pundit brought out a Bernie Sanders supporter who is #BernieOrBust and tried to talk down to her and convince her to support Hillary. Little did they know they would get owned.
Obama lied to you, then he cheated on you. His endorsement of Hillary is a sign of what to expect from Hillary.