A pH unit is a measure of acidity ranging from 0-14. The lower the value, the more acidic the environment. Becoming more acidic is a relative shift in pH to a lower value.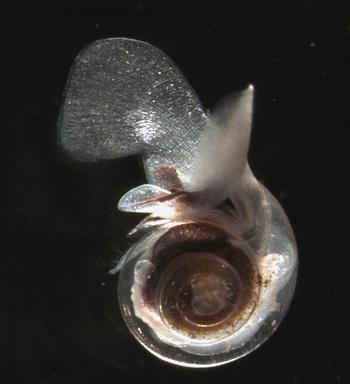 Pteropod Limacina Helicina. Courtesy of Russ Hopcroft, UAF.
The Chemistry
When carbon dioxide (CO2) is absorbed by seawater, chemical reactions occur that reduce seawater pH, carbonate ion concentration, and saturation states of biologically important calcium carbonate minerals. These chemical reactions are termed "ocean acidification" or "OA" for short. Calcium carbonate minerals are the building blocks for the skeletons and shells of many marine organisms. In areas where most life now congregates in the ocean, the seawater is supersaturated with respect to calcium carbonate minerals. This means there are abundant building blocks for calcifying organisms to build their skeletons and shells. However, continued ocean acidification is causing many parts of the ocean to become undersaturated with these minerals, which is likely to affect the ability of some organisms to produce and maintain their shells.
Since the beginning of the Industrial Revolution, the pH of surface ocean waters has fallen by 0.1 pH units. Since the pH scale, like the Richter scale, is logarithmic, this change represents approximately a 30 percent increase in acidity. Future predictions indicate that the oceans will continue to absorb carbon dioxide and become even more acidic. Estimates of future carbon dioxide levels, based on business as usual emission scenarios, indicate that by the end of this century the surface waters of the ocean could be nearly 150 percent more acidic, resulting in a pH that the oceans haven't experienced for more than 20 million years.
Oceanographers from MIT and Woods Hole Oceanographic Institution report that the northeast Pacific Ocean has absorbed an increasing amount of anthropogenic carbon dioxide over the last decade, at a rate that mirrors the increase of carbon dioxide emissions pumped into the atmosphere.
Ocean acidification is the ongoing decrease in the pH of the Earth's oceans, caused by the uptake of carbon dioxide (CO2) from the atmosphere.[2] An estimated 30–40% of the carbon dioxide released by humans into the atmosphere dissolves into oceans, rivers and lakes.[3][4] To achieve chemical equilibrium, some of it reacts with the water to form carbonic acid. Some of these extra carbonic acid molecules react with a water molecule to give a bicarbonate ion and a hydronium ion, thus increasing ocean acidity (H+ ion concentration). Between 1751 and 1994 surface ocean pH is estimated to have decreased from approximately 8.25 to 8.14,[5] representing an increase of almost 30% in H+ ion concentration in the world's oceans.[6][7] Earth System Models project that within the last decade ocean acidity exceeded historical analogs[8] and in combination with other ocean biogeochemical changes could undermine the functioning of marine ecosystems and disrupt the provision of many goods and services associated with the ocean.[9]
Increasing acidity is thought to have a range of possibly harmful consequences, such as depressing metabolic rates and immune responses in some organisms, and causing coral bleaching. This also causes decreasing oxygen levels as it kills off algae.
Other chemical reactions are triggered which result in a net decrease in the amount of carbonate ions available. This makes it more difficult for marine calcifying organisms, such as coral and some plankton, to form biogenic calcium carbonate, and such structures become vulnerable to dissolution.[10] Ongoing acidification of the oceans threatens food chains connected with the oceans.[11][12] As members of the InterAcademy Panel, 105 science academies have issued a statement on ocean acidification recommending that by 2050, global CO2 emissions be reduced by at least 50% compared to the 1990 level.[13]
Ocean acidification has been called the "evil twin of global warming"[14][15][16][17][18] and "the other CO2 problem".[15][17][19]
Ocean acidification has occurred previously in Earth's history. The most notable example is the Paleocene-Eocene Thermal Maximum (PETM),[20] which occurred approximately 56 million years ago. For reasons that are currently uncertain, massive amounts of carbon entered the ocean and atmosphere, and led to the dissolution of carbonate sediments in all ocean basins.